Our target is to take our local communities to the worldwide audience. Submit your story and we will help you to build your audience. Thank you Roots News Team
---
Suryakumar Yadav and Hardik Panya restored shouting volume with long sixes and generated high fives between octogenarians and small children. As Rishabh Pant and Ravi Ashwin strode off Adelaide Oval, the game half-done, their departures precipitated a flurry to departure gates as the terminal PA made "last call" announcements for several flights; not that the call mattered much as air crew and ground staff were all watching the game.
Fans and passengers flew off to Guwahati, Delhi and Mangalore with the high hopes that India's total of 168 was enough. My flight to Chennai was delayed an hour due to "high air traffic volume", but, coincidently, just enough time to watch the complete English run chase.
But no one was complaining, and we got to see if Arshdeep Singh, Mohammed Shami and Bhuvneswar Kumar's new-ball prowess could hold Jos Buttler and Alex Hales.
Sadly, the Kempegowda crowd was kept subdued by England's power play, middle overs and the premature finish. The upside was four overs less of commercials for mobile plans and motorbikes, and the flight gets away 20 minutes earlier.
The quieted crowd moped towards departure gates well before the finish. Young, old or middle-aged, these people know their cricket, and they can see a loss galloping towards them.
Concourse A didn't return to the pre-match thrum and clatter as conversations turned to murmurs of disappointment, although not of disaffection. How much they willed an Indian victory and hence a repeat of the 2007 final.
Whose side will they take in the final? They will still watch the game, after all it is a cricket match. They won't be neutral in this contest. Can the partitioned nations come together through their mutual love of a game, or will the architects of division be favoured?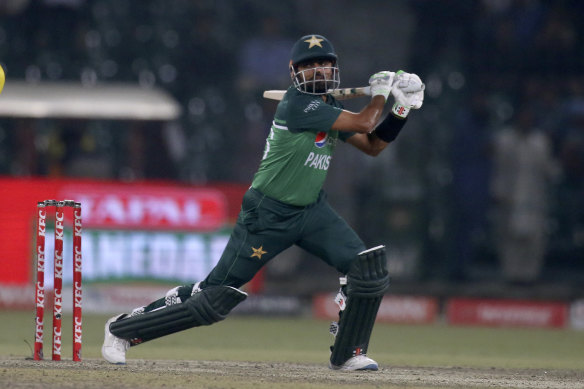 Pakistan can win anywhere, anytime. Their run to the final has been perfectly in line with expectations: eclectic, brilliant and relying on the Netherlands to get through. You can't write that
stuff.
Babar Azam coming good at the most important time will bolster their group psyche and the belief of a nation. There won't be many planes flying out of Jinnah or Allama Iqbal airports on Sunday
morning, and those waiting for flights will be stacked around the departure gate monitors, just as they had been in Bangalore.
Loading
England are powering like winners. Not content to drive conservatively towards the semi-final win, they put India on the canvas early: 10 wickets and four overs is a serious smacking. The end was swift. Fearless cricket indeed.
The final contest provides a contrast in styles and content, which makes picking a winner too difficult.
Maybe the victory here is for instinct and improvisation over process and statistics? No India team to break viewing records, but two high-class teams worthy of the MCG.
News, results and expert analysis from the weekend of sport sent every Monday. Sign up for our Sport newsletter.
Watch the Twenty20 World Cup final between Pakistan and England live and free on 9GEM and 9Now on Sunday from 6.30pm.