Our target is to take our local communities to the worldwide audience. Submit your story and we will help you to build your audience. Thank you Roots News Team
---
Powell felt such a sizeable house price drop citywide was unlikely. She expected price declines to continue at a slower rate as the Reserve Bank eased the pace of rate rises, and consumer sentiment and auction clearance rates were improving.
Loading
Gareth Aird, head of Australian economics at Commonwealth Bank, said house prices were unlikely to get back to pre-boom levels. He expects an 18 per cent peak-to-trough decline for Sydney, but noted falls could be greater if the cash rate went above his expected peak of 3.1 per cent.
Even if such a decline eventuated, it was unlikely to improve affordability, Aird said.
"If you're borrowing to buy … it's become less affordable because the increase in interest rates has had a bigger impact on borrowing power than prices."
Aird said price declines were likely to moderate, then halt next year as the RBA eased, and then paused, rate rises.
The northern beaches recorded the largest quarterly fall. The median house price there dropped 13.2 per cent or $344,000, and fell 18 per cent year-on-year.
The median price in the eastern suburbs fell 7.7 per cent, or $260,000, and six-figure declines were also recorded in the city and inner south, north shore, inner west, Ryde and inner south-west regions.
McGrath chief executive John McGrath said a pullback in higher-end homes for sale could be further pushing down medians in areas like the northern beaches.
Loading
McGrath attributed the sharp drop to rising interest rates, but also noted Sydney prices had overshot during the boom.
"People started to panic and pay … very unrealistic prices," he said."The last 5 to 10 per cent of market growth was unjustifiable, so it had to come back."
McGrath suspected the market was nearing its low point, and said a stabilisation of interest rates would be the catalyst for greater buyer and seller confidence.
First home buyer Clare Tamas missed out on multiple properties in the boom, and found little reprieve as prices fell due to a drop in borrowing power and the number of homes for sale.
"I kept being pushed out by people with deeper pockets and the auction guides were often completely incorrect," the 45-year-old said.
"[Then] my borrowing capacity dropped by $50,000 and that was a shock."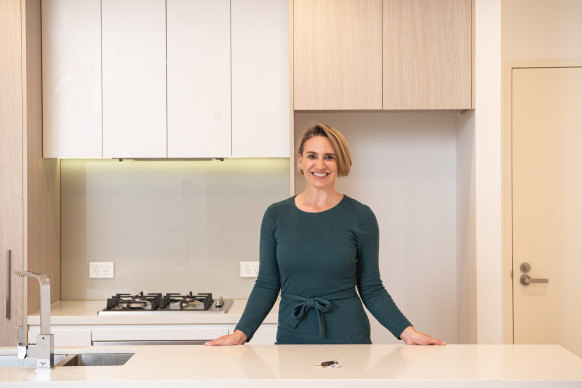 Tamas changed banks and used the federal government's first home loan deposit scheme, which gave her more spending power, but still had to stretch to her limit to purchase a one-bedroom Lewisham apartment.
"My borrowing capacity has gone down, so I didn't see too much difference [with what I could afford] but … an identical unit in the same block sold for [$30,000 more earlier this year] … so I do feel like I got a good price."
Her buyers' agent, Penny Vandenhurk, of Trelease Associates, said clients had seen borrowing capacity drop by 20 to 25 per cent. A client previously looking at $3 million homes was now looking at $2.2 million properties.
Many buyers and sellers had put plans on hold. Those pushing ahead typically had a genuine reason for needing to move, and felt pressure to purchase before their pre-approval lapsed and their borrowing capacity dipped further. They were also less likely to push to their maximum limit.